The MAYATEC Co.,Ltd.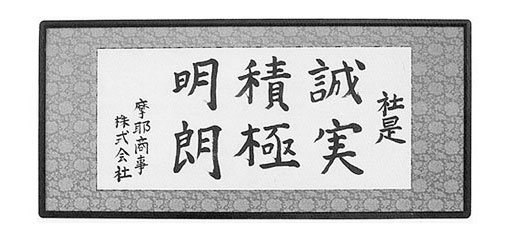 Mayatec began in the port city of Kobe in 1951 as a trading company primarily handling marine equipment. Over the years, we have expanded the scope of our activities under the corporate creed of being honest, constructive and positive.
In today's marine field, where exactness and a quick response mean everything, we turn to our years of experience and know-how to propose more effective products to shipyards and owners.
In the construction and agricultural fields where environmental protection and economic effects are demanded, Mayatec offers brand name and original equipment, tools and materials.
Through these services, we strive to conduct business activities and make business proposals as a sound and assured 21st century company.
Company Profile
Date founded
June 23, 1951
Capital
93,500,000yen
Employees
29
Directors

Chairman

Tomokazu Godai

President

Tomoyuki Godai

Director / Special Mission

Tatsuya Akutagawa

Director / General Manager, Sales Division

Hiroki Iwami

Director / Deputy General Manager, Sales Division

Tomohiro Fujishima

Director / Administrative Manager

Hiroyasu Tanabe

Director

Tomonori Godai

Auditor

Tomoaki Takada

Closing date of accounts
March 31
Banks
Resona Bank, Kobe Branch